#BCTECH Summit – Counting down the weeks!
Posted on February 27 2017 | Author: Sophie Wotten
The #BCTECH Summit is only weeks away and Bioenterprise is excited to be part of BC's largest tech conference. On March 14th and 15th, the #BCTECH Summit will take over the Vancouver Convention Centre! There are over 200 speakers anticipated at this year's Summit covering a cross-sector of industries including ag-tech, health,-tech, clean-tech, digital media and more, to discuss important topics impacting business technology decisions today.
The #BCTECH Summit is an opportunity not only to bring together BC's vibrant and innovative tech community but also the convergence of traditional industries, business leaders, government and academia that are now adopting tech in all facets of their businesses and programs.
Bioenterprise's President and CEO, Dave Smardon will provide an informative talk about bringing ag-tech innovation to market. Smardon's presentation, "Why Ag-Tech" will focus on the importance of agri-technologies, as well as, how agriculture must adapt and diversify in order to meet the needs of to the growing population and strains on our natural resources.
Food is at the core of our social fabric, requiring our food systems to be efficient, productive, sustainable and safe from seed to market. BC's agri-food sector is one of the most diverse in North America with more than 20,000 farms and 1,800 food processing firms in the province. Our innovative technology sector is developing new methods to increase diversity, sustainability, productivity and market growth in the face of climate change and population growth.
The session, "Technology and the Social Fabric of our Food Systems: Transforming and Diversifying Agricultural Models" will dive deep into the innovation, the challenges and the opportunities in agriculture. Bioenterprise is excited to be a part of this jam-packed session that will bring together leaders in the industry with representatives from the Ministry of Agriculture, Terramera and Defyrus Inc. A sample of the insightful and thought-provoking discussions will include trends and demands driving agri-technology innovation, the expectations of today's consumer on sustainable agriculture, and the role of genomics in the industry.
Don't forget to say hi to some of our Bioenterprise team at our exhibit booth, #205, where you will also meet some of the innovative companies we are working with!! Delegates interested in this stream should also check out the Biosphere and Greenhouse featuring #BCTECH in action.
Learn more about the #BCTECH Summit at www.bctechsummit.ca. With your special promo code, join Bioenterprise at the #BCTECH Summit! Use Speaker599 to purchase your tickets for the two-day conference for just $599!
---
Front-of-Package Requirements for Food Labels in Canada: Simplifying or Confusing Consumers?
Posted on February 23 2017 | Author: Admin
On N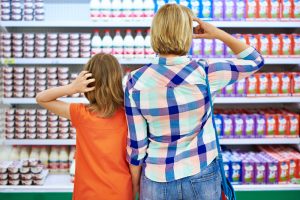 ovember 14, 2016, Health Canada released the consultation document "Toward Front-of-Package Nutrition Labels for Canadians" outlining their proposal to introduce mandatory requirements for labels that appear on "Front of Package" foods (FOP) that are high in nutrients of public health concern. These nutrients of public health concerns when at high levels are sodium (associated with hypertension), sugar (associated with diabetes) and saturated fatty acids (associated with obesity). Health Canada has requested input from consumers, stakeholders, industry members, researchers in academia and health professionals on the proposed FOP requirements.
Health Canada proposes applying FOP labelling through the use of a symbol (currently being determined by Health Canada with properties of being simple and intuitive) that is mandatory on the principal display panel when the prepackaged food exceeds the predetermined "high-in" threshold value for sodium, sugars, or saturated fats. Through this mandatory and simple approach, Health Canada feels that consumers can rely on quick information on key nutrients of concern that would allow them to easily compare products and help make healthier choices easier. Health Canada feels that consumers can be limited by time, motivation and other factors, so FOP symbols grants them an additional tool to help them with informed choices; being a simple visual cue. Health Canada also states that FOP labelling is transparent as consumers can verify which nutrient is being flagged in the FOP symbol and can verify its actual quantity on the Nutrition Fact Table on another panel.
The proposed threshold value for when a "high-in" FOP symbol would be required for sodium, sugar and saturated fats is suggested to be 15% of the dietary value for prepackaged food and 30% of the dietary values for prepackaged meals and combination dishes – though different threshold values are being proposed for foods with small reference amounts (condiments, butter, margarine, cookies etc.).
Health Canada is also permitting or considering permitting exemptions to FOP labelling for products with very small packages, small individual packages served in restaurants, food produced and prepackaged by retailers, alcoholic packages and packages of sugar and salt.
There has already been feedback from the industry that FOP labeling may actually increase, rather than decrease consumer confusion as intended as the consultation documents outlines many exemptions which could confuse consumers when encountering an exempted food versus a healthier food alternative that carries FOP labelling. Industry also has concerns that FOP labelling on the three nutrients of public health concern will cause consumers to focus on these three nutrients and not the other beneficial nutrients in the food (running contrary to a promotion of a balanced diet) and be frightened away from these products despite their other nutritional benefits. Some of the proposed FOP symbols are reminiscent of street signs (stop & yield) which may confuse consumers to be a "not-consume" warning rather than an indicator of a higher value of a certain nutrient that it actually is.
In addition to FOP labelling, the consultation documents also discusses update to nutrient content claims to make them consistent to the proposed FOP labelling and revising the current high-intensity sweetener regulations to align with those seen in international regulatory agencies around the world.
The current consultation has just recently closed on January 13th, 2017, though further consultations are planned again in June 2017.
dicentra is a professional consulting firm that specializes in addressing all matters related to safety, quality and compliance for all product categories in the health sciences and food industries. We evaluate, implement, and provide all the necessary support for your products and operations to gain market access and build confidence in your brand.
Article provided by dicentra

About dicentra
dicentra is a professional consulting firm that specializes in addressing all matters related to safety, quality and compliance for all product categories in the health sciences and food industries. We evaluate, implement, and provide all the necessary support for your products and operations to gain market access and build confidence in your brand. To learn more about dicentra, please visit www.dicentra.com

Click here to view the original article.
---
Census of Agriculture – What will the data tell us?
Posted on February 08 2017 | Author: Emily Hartwig
In order to develop effective and successful polices, regulators require extensive and highly detailed data. In the case of the Canadian agricultural policy, federal and provincial regulators rely on the statistical portrait created by the Census of Agriculture every 5 years. The goal of the census is to collect a comprehensive data set of Canadian farms and agricultural operators, including information covering major commodities, livestock, finances and new technologies.
Why the Census?
The Census of Agriculture data is collected on an individual basis and allows for a comprehensive view into the attributes and nuances that are unique to each farm community across Canada. The importance of the census cannot be overstated. The data is collected directly from those who will be most impacted by any resulting regulatory changes and thus enables industry to influence change and help shape the future of Canadian agriculture. As a result, all members of the agriculture community have the potential to benefit: farm operators will be able to formulate production, marketing and investment decisions; producer groups will be made aware of new industry trends and developments, and governments will be able to develop efficient and effective policies concerning agriculture.
New industries, new questions.
While every census includes certain basic questions, the most recent Census of Agriculture included questions pertaining to several new interest areas: the adoption of technology, direct marketing, on-farm practices and land features, land inputs, and renewable energy systems. These new sections of the census were added to reflect the ever-evolving nature of the agricultural industry as well as how farmers and agricultural operators are adapting. One can safely assume that any new policy introduced as a result of the census may include information pertaining to these new interest areas in Canadian agriculture.
With the rise of agri-technology, such as drones and precision agriculture, those affiliated with the agriculture industry will have a better insight into the long awaited structured and well-defined regulations.
The areas of conservation and sustainability efforts will likely begin to see these practices incorporated into regulation. Sustainable practices are not novel across the Canadian agricultural landscape but have become a hot topic as of late, and with its inclusion in the census, federal and provincial governments are starting to take note.
Questions regarding renewable energy systems also appeared in the census, and industry players may benefit from the data, encouraging the growth of sustainable business models and development of efficient market strategies.
The 2016 Census of Agriculture will begin to be released to the public May 10, 2017.
Emily Hartwig
Analyst
Source: Statistics Canada – Census of Agriculture
Photo Credit: Static Pexels
---