A User's Guide to Social Media Strategies
Posted on November 30 2016 | Author: Admin
In the past, it took 60 years for television to reach 1 billion households. In this generation, it only took 5 years for cellphones to reach the same amount of people. In today's generation, the increase in cellphone users goes hand in hand with the use of social media platforms due to the growing amount of people who use their phone for the internet and social networking apps. Technology is growing rapidly, requiring consumers, and more importantly businesses, to grow with it. With 70% of the global population expected to have smartphones by 2020, it is imperative businesses are active on social media.
Social media can be a great tool for organizations to reach a large segment of their consumers, help them interact with users and uncover consumer needs. Two of the most popular social media platforms used by businesses are Twitter and Facebook. Each of these platforms has unique strategies and goals associated with it.
Twitter
Twitter focuses on 4 key pillars: public, conversational, real time and distributed information. Since each post is limited to 140 characters, Twitter is not about creating long, in-depth messages– it is about grabbing the users attention, being seen and engaging with the public multiple times a day.
Did you know that 80% of customer service requests come from Twitter?
It is important for businesses to interact with customers to identify needs, areas of improvement and to keep the "conversation going". It is not often that people take their complaints into a store anymore; businesses should prioritize activity on the platforms that consumers favour and use to express their opinions. This can assist with fostering customer satisfaction and even staying ahead of the competition.
Twitter is also a great place to keep up with current news and trends. If there is a specific issue that everyone is tweeting about – businesses should consider becoming a part of the conversation! Organizations can increase engagement when they express an opinion, encouraging their consumers to share their views as well. It also indicates to consumers that your organization is keeping up with current trends, news and is active on the platform.
Facebook
Facebook has changed significantly since its launch in 2004. It has grown from a standard image-sharing network to a marketing hub. Today, Facebook is populated with multiple advertisements, promotions, pages, interests and "likes" posted to your profile. This gives companies access to information that they have never been able to see before!
Consumers are able to "like" different company pages, share articles, videos and photos they enjoy as well as comment on all content circulating the platform. This has allowed users to become very interactive online and has created a space to share thoughts and opinions on practically anything. Since consumers can share information online so easily, Facebook is a great way for companies to utilize social marketing. By promoting your organization on Facebook, you allow people to easily share your content with their networks, who can then share with their networks and so on. With features that allow you to "like" and comment, it is easy for consumers to receive feedback and identify what pages their friends are "liking", and thus, possibly influencing brand behaviour.
A recent study found that trusted social media users play a larger role in purchase decisions than product manufactures/retailers – these users are often referred to as "influencers". Consumers value other consumers' opinions, which means that "influencers" can play a huge part in the marketing of a brand – especially on social media where more than half of the population is active!
By promoting your product on Facebook, it gives people the opportunity to share their interest in your product with their network and potentially promote it with the click of a button. "Likes" and positive comments can help enhance a brand's reputation and help you promote your product or business.
Growing With Technology
The way consumers use technology has changed, making it extremely important for businesses to adapt and understand how consumers are engaging with it. Since the invention of smartphones, consumers are using various social media apps to converse and share opinions online. This is the new way of communicating in today's generation, making it essential for businesses to be part of social media and its communication platform.
Hopefully this post has provided you with more information on using social media across different platforms.
Rachael Piccoli Kuschke
Marketing & Events Assistant
Sources
5 Social Media Metrics that Your Business Should be Tracking
70 Percent of Population Will Have Smartphones by 2020
Hootsuite Conference 2016
Impact of Social Influence in E-Commerce Decision Making
Photo
Pixabay

---
Are You Meeting FSMA Produce Safety Rule?
Posted on November 24 2016 | Author: Admin
The Produce Safety Rule (PSR) requires growers to initially establish a Microbial Water Quality Profile (MWQP) for each untreated surface agricultural water source used during growing activities of covered produce (other than sprouts).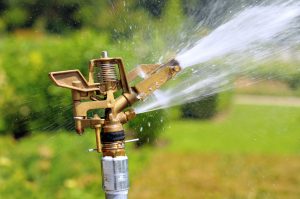 The Produce Safety Rules (PSR) must be applied for each water source using a direct water application method and annual surveys must be conducted for that water source in subsequent years.
The water quality profile is based on the levels of generic E. coli in your agricultural water using 100mL sample sizes. The method of testing for generic E. coli must be conducted following U.S. Environmental Protection Agency (EPA) Method 1603. Methods other than 1603 may be used but they must be scientifically valid and shown to be at least equivalent to EPA Method 1603 in accuracy, precision, and sensitivity.
Some experts have stated that testing water samples with 100mL sample size is not sufficient and may not detect pathogens if they are at very low levels.
Research led by the Centers for Disease Control and Prevention is examining a new irrigation water sample collection and testing methods that are expected to enable better detection of pathogens and fecal organisms other than E.coli for irrigation water. Ultra filtration water sampling techniques seem to be offering better options for risk assessment. The technique involves robust filters with minute pours that can trap bacteria, parasites and viruses. A battery powered portable pump is used to filter water from rivers, lakes or ponds at rates of 2 to 4 liters per minute.
Agricultural water is defined in part "as water that is intended to, or likely to, contact the harvestable portion of covered produce or food-contact surfaces."
Geometric Mean (GM): GM is essentially the average amount of generic E. coli in your water source. FSMA Produce Safety Rule criteria requires a GM at or below 126 E. coli CFU/100mL.
Statistical Threshold Value (STV): STV is a measure of variability of generic E. coli levels in your water source. In simple terms, it is the level where 90 percent of the samples (log values) are below the value. Produce Safety Rule requires an STV at or below 410 E. coli CFU/100mL.
CFU (colony forming units) is the estimate of bacterial concentration in your water per 100mL.
Article provided by dicentra

About dicentra
dicentra is a professional consulting firm that specializes in addressing all matters related to safety, quality and compliance for all product categories in the health sciences and food industries. We evaluate, implement, and provide all the necessary support for your products and operations to gain market access and build confidence in your brand. To learn more about dicentra, please visit www.dicentra.com

Click here to view the original article.
---
The Growing Agri-Technology Industry
Posted on November 16 2016 | Author: Dave Smardon
Fourteen years have gone by since Bioenterprise first opened its doors. Back then, we were a very modest, three person operation, focusing on what little agricultural innovation that could be found; innovation that had gone beyond the applied research phase. Agriculture was a commodity-minded industry – much more so than today. There was no such thing as "agri-technology" or "agri-tech" back then and the movement towards agri-investment was still years away. Governments were still completely focused on supporting research and the very idea of agricultural or food targeted accelerators, incubators, and clusters, was somewhere off in the future.
I am struck by the incredible difference we see today, from such a short time ago. I joined Bioenterprise in the summer of 2005 and all of the above was still very much true. A decade later and agriculture has been brought out of the shadows and into the mainstream. The First and foremost factor supporting this shift is the exponential growth in start-ups. Bioenterprise tracks start-up activity in our Innovation Portfolio and in our global database of companies. We list nearly 2,000 companies in thirty countries and this number is growing more rapidly than ever.
Not surprising, the leaders in agricultural innovation are countries that had the vision to support agriculture and food innovation a decade ago. The Netherlands, France, Brazil and the United States have become hotbeds for entrepreneurial activity. Of course, Israel always punches well above its weight and their output of start-up companies in agriculture is truly amazing. Countries like France and Brazil have invested $400 million in support of agricultural innovation and commercialization – and did so seven years ago. Today, they are reaping the benefits of their investments. Countries like Canada, Australia, New Zealand and Ireland can certainly hold their own but one must recognize that they represent a second tier. This is to be expected because they have invested less and for a much shorter period of time. But governments do get it now! They have tasted the kool-aid and are rapidly making investments in commercialization programs.
In just the past five years in the United States, we have seen the creation of Yield Lab, Agri-Tech East, Radical, and a new incubator at UC Davis. In Europe, new agricultural incubators are being formed in Norway, Scotland, France, the Netherlands, and Denmark – just to name a few. Israel has three! The United Kingdom established the Catalyst Fund and invested an additional £90 million to create agricultural innovation centres of excellence around the country. New Zealand and Ireland have recently established incubators – and I have barely touched the surface. All of the aforementioned have an agricultural focus and the vast majority of these are, in some way, government supported.
In Canada, there are regional players like PEI BioAlliance, Innovacorp, and Ag-West Bio and then we have a national player in Bioenterprise. I think that it should be noted as a sidebar that British Columbia has assembled a commercialization eco-system to be admired and duplicated. (I look forward to discussing this in a future blog.)
As more and more accelerators and incubators spring up, some problems become very clear. First, many of them are regional players; basically economic development engines designed to build new businesses and attract others to their regions. The latter objective, (attracting businesses to a region) is incredibly difficult and should never be the burden of an accelerator or incubator. It detracts from their most important objective; to build compelling and sustainable, new businesses. Second, most are underfunded and lack the capacity and depth in resources to truly make a difference. Funding is often provided on a short-term basis and is subject to the whims of politicians and changes in government. It is very difficult to build a critical mass of resources using that formula. The result is incubators that fall prey to the same dilemmas as the start-up companies they are trying to help. They end up being underfunded, under-resourced, and can only fade out of existence. They are not built for success. Third, agriculture and food are global industries. Start-up companies in these sectors require help on a much greater scale. They need access to markets, the experience of international executives and a global network that they can tap into for support. As a result, many of these commercialization groups will flounder.
Well, problems bring opportunities! Bioenterprise recently announced a strategic partnership with the Larta Institute in California. They are the only other agri-focused commercialization group with the history of success, pedigree, and breadth of resources similar to Bioenterprise. Together, we represent the largest agri-acceleration capacity in the world! And our organizations intend to capitalize on this unique position. While the details are still being ironed out, I think it can be said that this is only the beginning. It is through partnerships and collaborations between accelerators and incubators, regardless of their geography, that will provide the capacity and resources to truly make a difference… globally! And yes, the raison d'être for each of us can never be ignored but the leverage and global opportunities are so compelling.
As more and more commercialization organizations are created, there is a ground swell of new interest coming from multi-nationals and investors alike. Hopefully, more globally focused commercialization can present them with a smorgasbord of start-up companies and innovative technologies.
Yes, the landscape looks nothing like it did a decade ago, and the degree of change continues to accelerate. The future looks very bright indeed!
Dave Smardon
President & CEO
---
Mandatory GE-food labelling coming to the USA Part 1
Posted on November 09 2016 | Author: Admin
Read Mandatory GE-food labelling coming to the USA Part 1 from International Food Focus Ltd.'s President, Carol Culhane.
©2016 International Food Focus Ltd., 211 Carlton Street, East Office, Toronto, ON M5A 2K9 E: focus@foodfocus.on.ca
Food Fax is archived at www.foodfocus.on.ca
---
Merger in Big Agriculture
Posted on November 02 2016 | Author: Alexander Lazier
$66 billion is the price agreed upon in the largest all-cash acquisition in history. In September of 2016, Bayer the German agrochemical giant, reached a deal after months of deliberations to acquire the American seed company, Monsanto. Outpours of public concern followed as the deal would result in history's largest seed and agriculture company.
Lets look at the facts:
The total revenue produced by Monsanto in 2015 was $15 billion, while Bayer as a corporation produced $46 billion and its subsidiary Bayer CropScience, $12 billion. The acquisition of Monsanto will provide Bayer with 24 percent of the world's pesticides, 29 percent of its seeds and 70 percent of the cottonseed market.
Public Concerns
A preliminary concern is that Bayer Crop Science dominates the agrochemical/pesticide industry, while Monsanto leads global seed production. An acquisition therefore is not consolidation of like-businesses, but rather a move for full supply-chain control, more aptly known as vertical integration.
Vertical integration of the two largest companies in their respective fields has strong potential to curb competition and thus increase the probability of price gouging. Although agricultural yields have increased over the years, so have crop prices. Therefore, the potential for price gouging poses large risks in keeping global crop prices elevated, which would have strong effects on related industries.
Lastly, the acquisition will leave farmers facing a duopoly in seed: Bayer/Monsanto and, Syngenta/ChemChina and an additional duopoly in chemicals: Dow/Dupont and Bayer/Monsanto.
Company Reassurances
Bayer and Monsanto have attempted to eliminate the negative buzz by outlining the positive benefits of the acquisition. Primarily, merging two businesses with differing expertise will facilitate faster, more effective R&D in the production of environmentally robust seeds, which are crucial to pest aversion and drought resistance as the world's population skyrockets. With an annual R&D budget of $2.8 billion, the acquisition is hoping to advance seed research exponentially.
Additionally, as large regulatory hurdles must be passed to introduce novel biotechnology to the market, it is difficult for anyone but large players to compete. The unpredictable and lengthy process encourages consolidation and pushes for vertical integration, as it would be inefficient to do otherwise.
U.S. Government Reactions
The U.S. Senate has responded to the acquisition by assigning both the Justice Department and the Federal Trade Commission to an investigation to ensure that the acquisition will not substantially lessen smaller scale competition.
Industry Reactions
The agriculture industry responded with mixed opinions. If Bayer is true to their claims, the acquisition will create an advanced seed landscape with an increased profile of products that will increase yield and minimizing losses. However, other growers remain skeptical and believe company-centered values and price hikes will eventually be the reality.
Wherever the public stands on this acquisition, the consequences will not begin to appear clear for months, if not years. While concern is indisputably warranted, the potential for great agricultural gains are equally at play. It is up to time to tell whether this potential will be met.
Alexander Lazier
Junior Analyst, Agricultural Technologies
Sources
Monsanto brand name may get the circular file in proposed Bayer acquisition
Monsanto's latest acquisition could send food prices soaring
Why our food would be in danger from a Bayer-Monsanto merger
Photo
University of Wisconsin-Extension
---