Honest Networking
Posted on November 28 2013 | Author: Ingrid Fung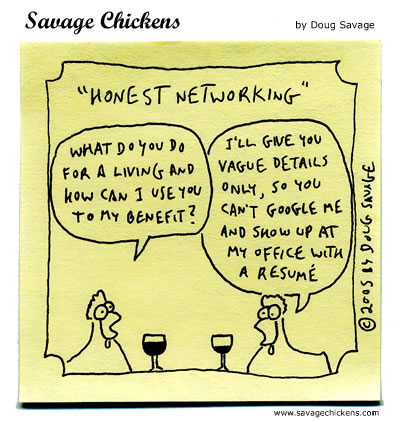 Regardless of how great your product or team, if your organization wants to achieve its goals, you will need to be good at what you do, and good at building relationships with people who matter. Success depends on what you know AND who you know.
Whether you're starting a company or starting your career, it is important to take time to build helpful connections in your space. The caveat is that networking events can seem awkward and interactions can feel forced. No one wants to feel like Pete Campbell from Mad Men, a sniveling, butt-kissing person of little character willing to do anything to get ahead! So how do you build a solid network without coming off as a smarmy jerk?
While you should always be polite and never disparaging to anyone you interact with, the key is to be selective about who you add to your network. This means applying some criteria to decide whom you want to follow up with. These criteria aren't meant to exclude people that won't be "useful" to you (that's impossible to determine from a quick meeting). They are meant to help you determine if you're likely to maintain a relationship with this person. There's no point in having contacts that you dread interacting with.
Three criteria I use when 'filtering' my network are:
Do I like this person?

Do I enjoy their company? Would I be happy seated next this person on a long-haul flight?

Do I admire this person?

I like to make sure that I admire something about this person.It could be their achievements, skills, or some other intangible about them.But I like to know that I could learn from them.

Do I trust this person?

You'll likely have to meet someone several times to decide, but it's usually a gut feeling.
If the answer is "yes" to at least one of the above criteria, I make sure to follow up with the person. Applying criteria to decide whom you add to your network will allow you to build connections with people you genuinely want to interact with outside of work. Whatever criteria you decide on applying, choose ones that make your interactions feel more honest and less forced. Maintaining relationships with your connections takes a significant amount of time and effort, you are much more likely to put in the effort if you actually like your contact.
There are many resources online that give details on the nuts and bolts of how to network − you will find a couple of those links below. In a day and age when it's easy to amass an immense collection of online contacts that won't respond to your calls and e-mails, making a face-to-face connection is still the best way to get people to respond to your communications. So go out, and meet people! Be thoughtful, be personal, and remember building a network is about getting to know other people and helping them.
Ingrid Fung
Business Analyst, Plant & Animal Science

USEFUL LINKS:
http://www.forbes.com/sites/dailymuse/2012/12/06/how-i-got-over-my-hatred-of-networking/
http://www.theglobeandmail.com/report-on-business/careers/career-advice/10-tips-to-network-with-confidence/article10979390/
http://blog.brazencareerist.com/2013/07/29/5-essential-tips-for-surviving-awkward-networking-events/
http://www.forbes.com/sites/dailymuse/2012/03/06/non-awkward-ways-to-start-and-end-networking-conversations/
---