Due Diligence - An exercise in organization and presentation
Posted on December 04 2014 | Author: Ingrid Fung
At one point or another every company will require financing. While some may be able to access capital through founders, and personal networks, most will need to raise money externally. Potential investors of every kind are likely to require a comprehensive analysis of the business to evaluate commercial potential prior to investing in a company.
Bioenterprise offers due diligence services to companies that are looking for investment. The goal of the process is to evaluate whether the claims made by a company are supported by the information provided. While every project has it's own challenges, invariably the key to a smooth due diligence process is providing well-organized, comprehensive information to evaluators.
Organization of the information you provide is key to helping your evaluators understand your argument, and analyze your business. When providing this information, it is important to approach the process much like a presentation. Organize your information by:
Telling your reviewers what you are going to tell them. You can do this in the form of a pitch deck, business plan, or executive summary.
Tell them. Provide the information.
Tell them what you have told them by summarizing the conclusions they should draw from each set of information provided.
Below are several tips that can help you better organize the information you provide:
Organize your documents in a similar order to the way information is provided in your business plan, pitch deck, or executive summary. This will make it easier for your evaluators to follow your lines of thought, and more likely to come to the same conclusions as you. It's much easier to agree with someone when you are presented with support for their argument each step of the way.
For each section or type of information you provide (e.g. Intellectual property, Financials, etc.) Include an overview document that provides some kind of narrative as to how the information or documents came to be.
Take time to write out brief summaries or summarize complex data into easily referencable charts and figures. Basically, what you are doing here is providing a guideline for your evaluators, and then what they should be seeing in the information you provided and how they should be seeing it.
Take advantage of online file sharing services to organize your documents in easily sharable ways. This way when your evaluators look at the information, they will see it in the relative order, groupings etc. designated by you. Besides climbing into your brain, this is the next best thing.
Take the time to rename your files, giving them easy to understand, self-explanatory names. There is nothing more frustrating than to having to open dozens of cryptically named documents to decipher their contents.
There are a number of checklists and guidelines online that give a good overview of the information a company should provide (see end of document for some suggested resources). However the organization, and presentation of information is just as important as the documentation provided. Providing good written summaries of the information you provide will give evaluators and analysts a road map to refer to throughout the process. Well-organized information and data will make it as easy as possible for those evaluating your company to come to the same conclusions as you!
Ingrid Fung
Senior Business Analyst, Planting & Animal Science
Sample due diligence checklists:
http://www.pioneerbusinessventures.com/downloads/MASTER%20ACQUISITION%20DUE%20DILIGENCE%20CHECKLIST.pdf
http://www.grantthornton.com/staticfiles/GTCom/Advisory/Comprehensive%20M&A%20due%20diligence%20checklist%20for%20buyers.pdf
http://smallbusiness.findlaw.com/starting-a-business/buying-a-business-due-diligence-checklist.html
http://www.meritusventures.com/template_assets/pdf/diligence.pdf
---
Biological Crop Input Products
Posted on May 28 2014 | Author: Ingrid Fung
Biologically based crop input products are substances that are derived from non-synthetic, naturally occurring sources such as microbes, biochemicals, and minerals. Like their synthetic counterparts, biological crop input products are designed to either limit plant stress (crop protection products) or maximize plant health (yield enhancement products). Rising regulatory scrutiny of novel synthetic crop inputs, and increasing weed and pest resistance to long-standing, often over-used chemicals has resulted in soaring interest in developing biologically-derived options.
Although biologically derived products have been around for over 20 years, previous iterations have achieved limited uptake. In the past, over-marketing of biologicals, lack of performance consistency, and over-optimistic product claims have led to a negative perception of biological products among growers.
Currently an expansion interest in biological crop input products is occurring, driven by new research tools, novel synergies with synthetic chemical inputs, and major corporate investments. New research tools have enabled the elucidation of biological modes of action, as well as the development of regional application practices to mitigate environmental affects on performance. This has greatly increased the performance consistency of many biological crop input products. The development of biological products that can be used with synthetic chemistries has changed the way in which biological products are used. Today most successful biological products are marketed as part of a crop input package, to be applied in concert with synthetic crop chemistries. For example Poncho Votivo™, a crop protection product produced by Bayer Crop Science, is a combination of a traditional fungicide product with a biological product. As a part of an overall crop input strategy, biological products have the potential to incrementally increase crop performance and yield above those achieved by existing crop treatment packages.
Many companies now look to biological crop input products, not only as a means of accessing niche markets, but as a means of improving current product offerings by adding biologicals to existing crop input products and product packages. This increasing corporate interest towards biological products is exemplified by a series of high-profile acquisitions of leading biological firms, such as the acquisition of AgraQuest (biological crop protection and yield enhancement) by Bayer CropScience, Becker Underwood (inoculants) by BASF Crop Protection and Pasteuria Bioscience (nematode control) and Devgen (biological disease inhibitor technology) by Syngenta Crop Protection.
Biological products show a great deal of promise to not only improve upon synthetic crop chemistries, but also provide greener alternatives. As investment and corporate interest in biological crop input products continues to grow, it will be very interesting to see the innovative products that will be developed.
Ingrid Fung
Business Analyst, Plant & Animal Science
---
Honest Networking
Posted on November 28 2013 | Author: Ingrid Fung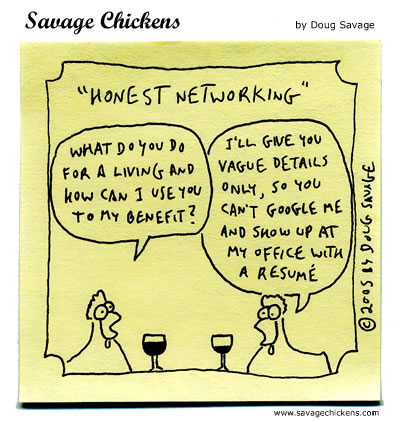 Regardless of how great your product or team, if your organization wants to achieve its goals, you will need to be good at what you do, and good at building relationships with people who matter. Success depends on what you know AND who you know.
Whether you're starting a company or starting your career, it is important to take time to build helpful connections in your space. The caveat is that networking events can seem awkward and interactions can feel forced. No one wants to feel like Pete Campbell from Mad Men, a sniveling, butt-kissing person of little character willing to do anything to get ahead! So how do you build a solid network without coming off as a smarmy jerk?
While you should always be polite and never disparaging to anyone you interact with, the key is to be selective about who you add to your network. This means applying some criteria to decide whom you want to follow up with. These criteria aren't meant to exclude people that won't be "useful" to you (that's impossible to determine from a quick meeting). They are meant to help you determine if you're likely to maintain a relationship with this person. There's no point in having contacts that you dread interacting with.
Three criteria I use when 'filtering' my network are:
Do I like this person?

Do I enjoy their company? Would I be happy seated next this person on a long-haul flight?

Do I admire this person?

I like to make sure that I admire something about this person.It could be their achievements, skills, or some other intangible about them.But I like to know that I could learn from them.

Do I trust this person?

You'll likely have to meet someone several times to decide, but it's usually a gut feeling.
If the answer is "yes" to at least one of the above criteria, I make sure to follow up with the person. Applying criteria to decide whom you add to your network will allow you to build connections with people you genuinely want to interact with outside of work. Whatever criteria you decide on applying, choose ones that make your interactions feel more honest and less forced. Maintaining relationships with your connections takes a significant amount of time and effort, you are much more likely to put in the effort if you actually like your contact.
There are many resources online that give details on the nuts and bolts of how to network − you will find a couple of those links below. In a day and age when it's easy to amass an immense collection of online contacts that won't respond to your calls and e-mails, making a face-to-face connection is still the best way to get people to respond to your communications. So go out, and meet people! Be thoughtful, be personal, and remember building a network is about getting to know other people and helping them.
Ingrid Fung
Business Analyst, Plant & Animal Science

USEFUL LINKS:
http://www.forbes.com/sites/dailymuse/2012/12/06/how-i-got-over-my-hatred-of-networking/
http://www.theglobeandmail.com/report-on-business/careers/career-advice/10-tips-to-network-with-confidence/article10979390/
http://blog.brazencareerist.com/2013/07/29/5-essential-tips-for-surviving-awkward-networking-events/
http://www.forbes.com/sites/dailymuse/2012/03/06/non-awkward-ways-to-start-and-end-networking-conversations/
---